Are you about to embark on the Sales and Operations Planning (S&OP) journey, or you have already done so? Do you want to integrate an S&OP process that works and brings value across the business? Maybe you would like to improve your existing S&OP process.
Optilon's approach to S&OP bridges the disconnect between the Business Plan (top-down) and Operational Plan (bottom-up), creating the right environment to ensure that the business strategy is followed consistently all the way to the shop floor.
As a business leader y,ou want to continuously be alerted when predicted performance deviates from expectations, to make data-driven decisions adjusting direction when there is still time to act. It enables your company to sustainably reach its targets in an ever-changing business environment.We believe that a well-working S&OP process is achieved by:
A top management commitment and a pull for the process
A process design that put's a high emphasis on the operationalization of the S&OP planning decisions
Standardization of KPI's, data visualizations, and analysis to easily detect exceptions for action
Clear roles and responsibilities and a dedicated owner of the S&OP
A S&OP and tool design that focus users' input to where it adds value
Exception-based methodology
Tool-supported data gathering and processing
Minimized requirement for manual input to coordinate/ maintain the process.
How can we work together?
There are three dimensions to S&OP; people, processes, and technology. Optilon has expertise within all these dimensions and can help secure your S&OP process to be impactful across your business and bring the value you are looking for.
Below you will find an overview of the S&OP 'Building Blocks'. These are the core elements in developing your journey working with us.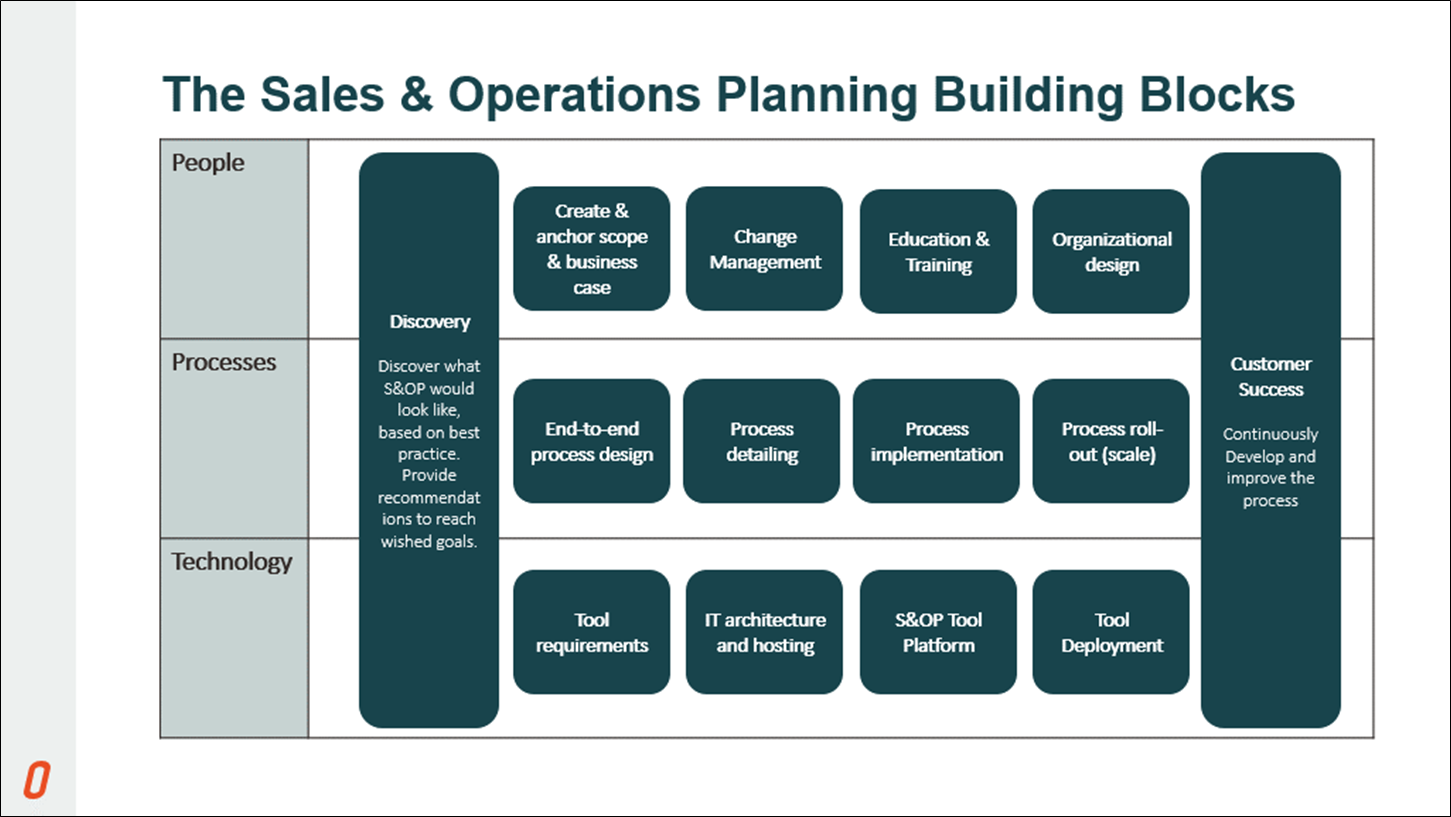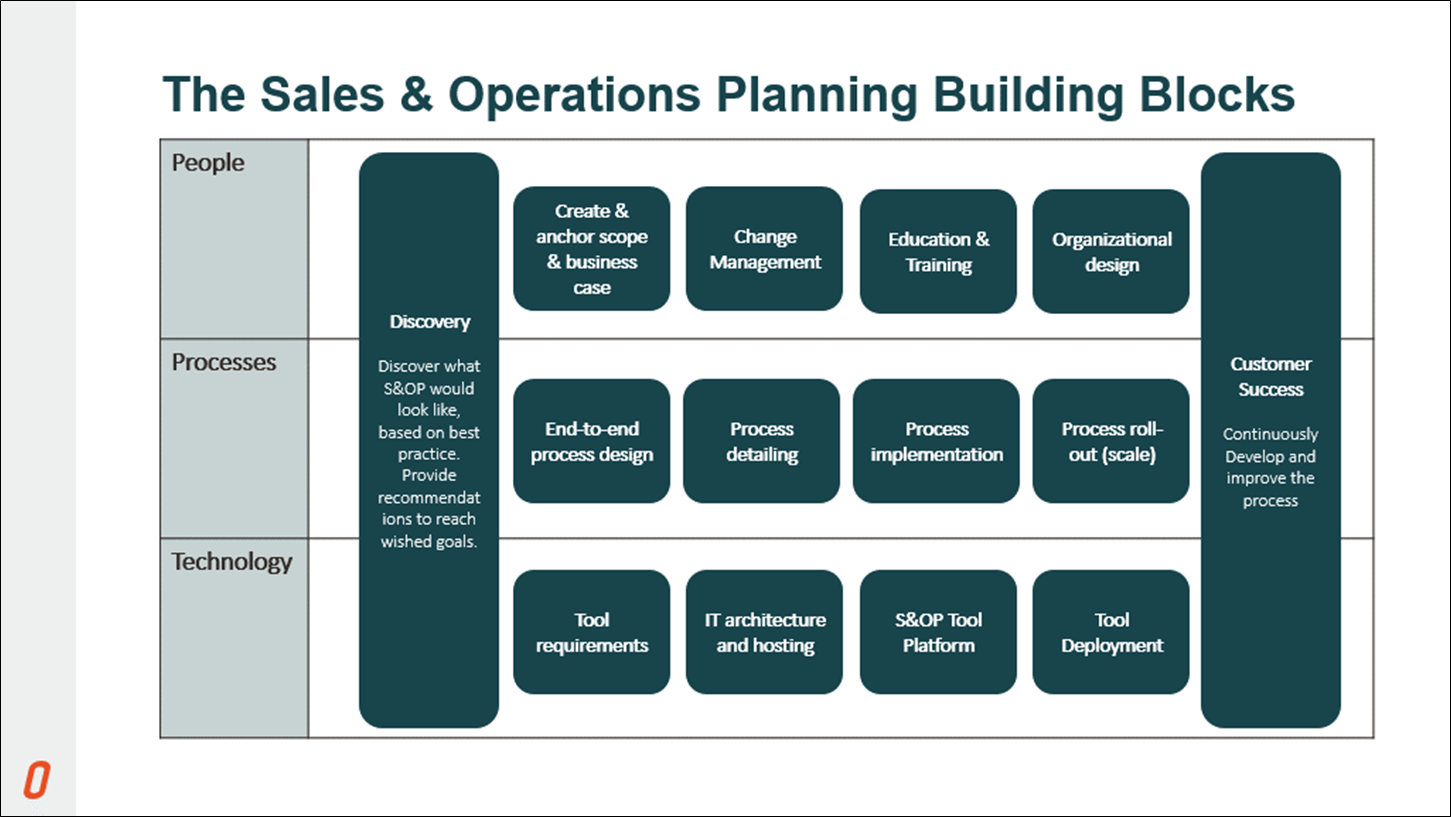 Typically, we help our customers:
Assess S&OP maturity and effectiveness, to ensure that you get the right advice.
Create a customized roadmap to mature S&OP, identifying, sizing and prioritizing opportunities.
Facilitate end to end S&OP design, and tailor best practice to the needs of your organization
Manage stakeholders – support to clarify and anchor vision, need, and required change journey. Aiming to make key stakeholders S&OP ambassadors.
Manage change – coaching of and support to internal Change leaders, responsible to drive implementation.
S&OP tool development leveraging and connecting existing system suite incl. BI-tools for visualization.
S&OP digitalization – configuration and implementation of one platform supporting the S&OP process end to end.
What will you gain by working with us to develop your Sales and Operations Planning processes?
An experienced partner anchored in theory and best practice. We are experts at designinS&OP processes that solves real business problems.
A local partner with Nordic speaking teams, specialized to optimize for Nordic business pre-conditions.
A continuous sparring and implementation partner – we want you to succeed.
A modularized approach to technology adoption. We have the capability to develop S&OP tool support starting off small and simple to "grow as you go"; increasing reach and sophistication as maturity allows.
A phased project approach – you commit to one phase at the time.
What is our approach to technology?
An S&OP process is enhanced by technology. But the S&OP process and business problems to be solved always comes first. The S&OP process design is leveraged to define tool requirements.
We strive to implement solutions which:
Build on a digital twin: The digital twin should be a digital representation of the end-to-end supply chain network and supports not only tactical, but also strategic planning and operational execution.
Have a managed workflow: To eliminate the need for manual process coordination and ensuring a harmonized way-of-working within and between cycles. This will support the users to efficiently navigate the solution and provide input only where it adds value.
Build on a modular approach: Our S&OP platform is configurable to your needs, reach and functionality can be expanded as your process matures.
Support What-if scenarios: These are applied to create versions of the future to model alternative scenarios for uncertain areas within your business. Enables you to efficiently make trade-offs between risks and potential gains, as well as to conclude under which pre-conditions to use which scenario.
Include reporting and performance management: Dashboards enable effective and interactive reporting and analysis of plans, KPI's and gaps.
What's in it for…
Finance:
Formerly separated planning processes within Finance and Operations are linked creating E-2-E visibility and driving data granularity. Analysis incudes total business impact improving quality and enabling targeted decisions. Budgets and annual planning will be simplified.
Sales:
Company performance is maximized by structured collaboration between Sales and Operations where Sales is empowered in the budget process and S&OP fuels sales steering. Future Sales actives are logged, and past performance is monitored, measured, and evaluated.
Supply Chain:
An effective S&OP process drives a future-fit Supply Chain, as it is the pre-condition to mature the Supply Chain beyond Operational excellence. It creates E-2-E visibility, enables pro-active decision-making increasing operational efficiency. One integrated plan across the company reduces complexity and supports the transition from a linear model towards a network approach.
Discover resources from Optilon and how you can utilize them in your business. We are here to help you optimize your processes.