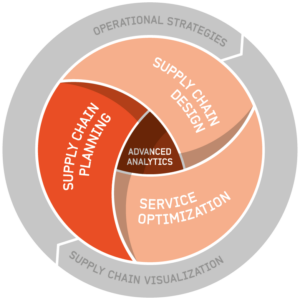 Are you struggling with many alternative plans that are not aligned? Despite all these plans, do you find yourself lacking the one that can actually be executed upon? Do you spend a lot of time adjusting plans, to account for constraints, priorities and rules? Do you find it difficult to connect plans for different horizons, with different granularity and time buckets? Optilon provides you with a 'one-plan' approach, that considers the above challenges, and provides you with a feasible plan that minimizes time, cost, and resource utilization.
Creating one plan requires deep knowledge and understanding of three things:
1) What method is most suitable for your business environment, heuristics or optimization?
2) Which constraints, priorities and rules are necessary to consider when creating a feasible plan?
3) What are the planning processes that need to be supported, for example production scheduling, factory planning, master planning, financial planning, or sales and operations planning?
Optilon automates the creation of a feasible plan. With advanced scenario handling, we enable you to focus on value-adding activities, such as analyzing alternatives. This means more analysis and less manual planning, also providing you with accurate capable-to-promise (CTP) and available-to-promise (ATP) information.
Optilon has several different methods for creating a feasible plan. Through our selected partners, we can work with heuristic- and meta-heuristic approaches with priority rules, or different optimization methods such as linear programming and mixed integer linear programming (LP/MILP). With these methods, we can consider material- and capacity constraints such as:
Supplier capacity and material constraints
Production storage area constraints
Loading and/or unloading capacity
Transportation capacity
Personnel and staffing
Tool availability and machine capacity
Sequencing requirements
When modeling, "what-if" simulations or scenarios play a crucial role in testing changes to the plan, answering questions like:
Which orders will be delayed if reprioritized?
What happens if capacity is adjusted for bottlenecks?
Which customers are affected by the reduction in capacity of machine X?
What happens if a supplier delivery does not arrive on time?
How can all of the above be compared against each other?