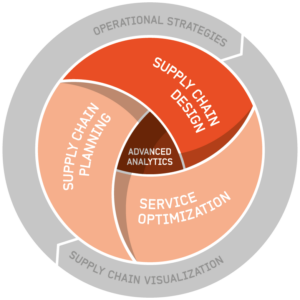 Are you sure your supply chain set-up corresponds to your market requirements in the best possible way? When changes occur, are you equipped to respond fast enough? Will your next move be the right one? Supply chain design provides you with the right insights to tackle these challenges. 
The basic premise of an effective supply chain is that the supply chain is designed based on market requirements. Visibility and awareness of constraints, risks, and inefficient structures can lead to big savings. Historically, analysis of supply chain flows has been time-consuming, and understanding of consequences has been difficult. This work has therefore been done infrequently, with Excel models as the only support. Now, technologies that help you build a virtual model of your supply chain are available, containing all necessary information, such as cost structures, rules, and constraints. This allows you to optimize both the current state and simulate alternative set-ups.
Underlying assumptions always pose a big challenge for optimization. With Optilon's help, you can test and validate these assumptions to achieve tangible, implementable results. By combining optimization and stochastic simulation, our solution allows for an almost indefinite amount of scenarios, providing capabilities for true sensitivity analysis to test your assumptions.
The supply chain design process contains different steps. Awareness of the current state is the starting point. As such, we start with visualizing baseline performance based on existing supply chain flows. In the next step, baseline performance is optimized. In this step, methods such as cost-to-serve, product introduction and phase out, transportation modeling, and greenhouse gas emissions modeling can be applied to better understand resource utilization. In the third step, the as-is state can be challenged, when we create scenarios for multiple alternative set-ups. In this step, we use methods such as point of gravity-, and greenfield analysis. Mergers and acquisitions is a typical example when the as-is state needs to be challenged.
The supply chain design approach opens up a magnitude of opportunities for both strategic and tactical decision making. Analysis of capacity investments and strategic sourcing can be taken to the next level, as well as financial planning and balancing of demand and supply. This is a continuous process, providing opportunities for a proactive supply chain.