Are you struggling to understand what effects your promotions could have on sales? Do you know which campaigns to run to maximize the effect of your marketing budget? Could you increase sales from social media listening or other digital activities? Is weather a key factor in your business and something to consider in the forecasting process? Could you predict if new products will succeed or fail just after release?
Are your data good enough for decision making?
All the above questions can be answered using advanced analytics, and its specific branch machine learning. Machine Learning is a version of AI (Artificial Intelligence) which recently have become an individual area of knowledge. Machine learning as a concept is not new, but the data volume being created and available in today´s ERP, CRM, data warehouse, etc in combination with performance and cost of hardware have suddenly opened up access to new business value (increased revenues, decreased costs and risk).
The core in Optilon's work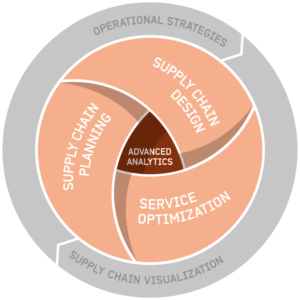 Machine learning is one mathematical approach in advanced analytics where optimization (linear and mixed integer linear programming) and heuristics are other well know methods. Advanced analytics is the core in all Optilon's work and is in our DNA. Working with Optilon gives you access to world leading technology in Advanced Analytics that can truly make a difference in today´s competitive business landscape. Companies like Uber, Amazon, Netflix and others have the financial power and can attract the best talents to create their own advanced analytics "center of excellence" with in-house specific developed machine learning applications. Most companies must apply another strategy, business users need to be empowered by machine learning in their everyday work without having to go to university and get a degree in data science.
Optilon will guide you to the best method for the specific planning challenge you are facing and incorporate it in the business processes.
Predictive Order Monitoring                                                Robotic Data Correction
Descriptive Analytics
An area of business analytics close related to the main areas in advanced analytics, prescriptive- and predictive analytics, is descriptive analytics. A type of analytics that describes and visualizes. Optilon is also working with descriptive analytics in the area of supply chain visualization.
Do you want to read more about the subject? Read the posts about advanced analytics and predictive analytics on Optilon Academy.