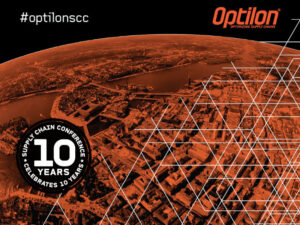 For the tenth year running, the Nordic event Supply Chain Conference is held. A two-day event that gathers active in the supply chain business in the Nordics. During the first day, named Academy, supply chain optimization courses is held such as Descriptive Design and Predictive Learning. The second day, also known as the Supply Chain Conference, contains interesting speakers from all over the world.
This year the conference introduces Principal Analyst James Cooke from Nucleus Research, first time in Sweden as a speaker. Others among the speakers is IKEA, Findus, Costa Express and the second keynote Johan Norberg. Chris Clowes from Costa Express will also speak at the Gartner Supply Chain Executive Summit in London later this September. The Supply Chain Conference was established by Optilon who since the start pursued the work with the conference in order to increase knowledge within the business and highlight supply chain in the Nordics. Optilon was established by twelve senior consultants in 2005 and is also celebrating ten years as a company 2015. The Supply Chain Conference and Optilon has grown side by side the last decade.
– It is really exciting to see how the conference keeps growing since the start with a nowadays prominent part within the business. Ten years ago, we felt that this was an important initiative to strengthen the supply chain business and with hindsight we can see that the Supply Chain Conference fulfills its purpose, says Richard Barkevall, CEO at Optilon.
This year's conference is held at Fotografiska in Stockholm and will be moderated by Annika Dopping. Aproximately 200 are expected to attend during the conference's two days.
Similar news
Starship and Uber to Stockholm in September
I Love Supply Chain!
Optilon's Two Successful Days in Supply Chain Optimization!
Optilon at SummerCon in Ann Arbor
UPDATE! Optilon's Supply Chain Optimization Seminar 2013
Optilon's Supply Chain Optimization Seminar 2013